List May 2020


'The first modern attempt to create a complete system of political science' (PMM)
BODIN, Jean
(1530-1596)
Les six livres de la Republique. Ensemble une Apologie de René Herpin. [
Bound with
:] Apologie de Rene Herpin pour la republique de I.Bodin.
A Paris, Chez Iacques du Puys 1583-81.
2 volumes in 1. Small 8vo. [XXIV],1060,[44]p., [I],44 lvs. Contemp. vellum, minor imperfections. A few small marginal wormholes in a few leaves. Old name on first blank, modern bookplate of 'E.D.K.' on rear paste down. Good copy. (#20081)
€ 1750

First edition (but see below) issued with the Apologie of Bodin's famous work. Bodin's Six livres (first published in 1576) can be considered as 'the first modern attempt to create a complete system of political science'.
The apology was written by Bodin under the peudonym René Herpin in defense of the attacks of Auger Ferrier and Michel de la Serre. It is mentioned on the title of the main work but has also an own title dated 1581. It was not added to all copies of this edition. Crahay mentions an earlier separate edition, undated and without a title-page.
Crahay (p.119) discriminates two issues of this edition dated 1583 (F8 and F9a). Our copy has the title-page of F9a, but the pagination in larger fonts, the index printed in italics, and the title of the index of F8.
*R.Crahay, M.T.Isaac & M.T.Lenger, Bibliographie critique des éditions anciennes de Jean Bodin, F8/9a (République) and F2 (Apologie). Printing and the mind of man 94. En français dans le texte 68.


---
Best edition of the 'first modern attempt to create a complete system of political science '
BODIN, Jean (1530-1596)
De republica libri sex, latine ab autore redditi, multo quam antea locupletiores.
Lugduni, et venundantur Parisiis, apud Jacobum Du-Puys [Lyon and Paris, Dupuys] 1586.
Folio (35 x 22,5 cm). [VIII],779,[61]p. With printer's vignette on title, coat of arms on verso and several head- and tail-pieces and decorated initials. Contemp. blind-tooled calf, little rubbed, back expertly repaired, red edges. Small brown stain in upper left corner, far from printed surface, disappearing halfway. (#23549)
€ 7500
First Latin edition, first issue. This Latin edition was translated by Bodin himself. For the translation he made numerous improvements and additions and it is therefore considered the standard edition. The first edition appeared in French in 1576 and was many times reprinted until the beginning of the seventeenth century, and translated into German, English, Italian and Spanish.
'The
Six books of the republic
had an immense influence all over Europe. It is, in effect, the first modern attempt to create a complete system of political science. Its basis was the
Politics
of Aristotle, and it was through Bodin that Aristotle's work came to exercise the influence on modern political thinking which has made him the father of modern democracy. Bodin was not content merely to reproduce his master, however; he added considerably from his own experience. Although like most sixteenth-century writers he approved of absolute government, he demanded its control by constitutional laws, in which respect he foreshadowed the development during the seventeenth century of the idea of the social contract. Thus Bodin was the first to set out clearly the argument round which most political discussion centred in the seventeenth and eighteenth centuries, that law is merely an expression of the sovereign will, but that where this reposes in an absolute monarch, it must be mitigated by a customary or natural law. When the lawgiver's law becomes unjust, it ceases to be valid and must be resisted.'
First provenance: Thomas Foley, with his armorial bookplate to verso of title 'Thomas Foley of Great Witley Court in the County of Worcester Esqr.', and identical but smaller bookplate with only 'Foley' to front paste-down. Probably the ironmaster and Member of Parliament Thomas Foley (1616-1677).
Second provenance: Inscribed on front free endpaper: 'Herman Heller/ with warm regards/ Harold J.Laski'. Herman Heller (1891-1933), German legal scholar who went into exile in 1933. Harold Joseph Laski (1893-1950), English political theorist and economist. Below the inscription two illegible lines.
*R.Crahay, M.T.Isaac & M.T.Lenger,
Bibliographie critique des éditions anciennes de Jean Bodin
L1a.
Printing and the mind of man
94.
En français dans le texte
68.
---
BYNKERSHOEK, Cornelis van (1673-1743)
Verhandeling over burgerlyke rechts-zaaken, in IV. boeken; met veele gewysdens der beide Hooge Gerechtshoven doormengt. In het Latyn beschreeven ...
Amsterdam, Isaak Tirion 1747.
2 delen. XII,[IV],508; [X],509-1080,[24]p. Met portret. Contemp. perkament. (#32412)
€ 350
Eerste Nederlandse uitgave van
Quaestiones juris privati libri IV
(1744). De vertaler is onbekend.
*Dekkers p.16,18 (alleen de Latijnse editie). Star Numan p.471-472.
---
BYNKERSHOEK, Cornelis van
(1673-1743)
Verhandelingen van staatszaken, vervat in twee boeken, waar van het eerste handelt van oorlog en vrede. En het twede van zaken van verscheide stof. In het Latyn beschreven ... en nu in 't Nederduitsch overgebragt, door Matth. de Ruusscher, R.G. [
En
:] Verhandeling over burgerlyke rechts-zaaken, in IV. boeken; met veele gewysdens der beide Hooge Gerechtshoven doormengt. In het Latyn beschreeven ...
Leyden, Johannes van Kerckhem 1740 & Amsterdam, Isaak Tirion 1747.
Samen 4 delen. Met portret. Contemp. leer, ruggen rijk verguld met rood rugschild, hoeken zeer licht gesleten. (#35785)
€ 650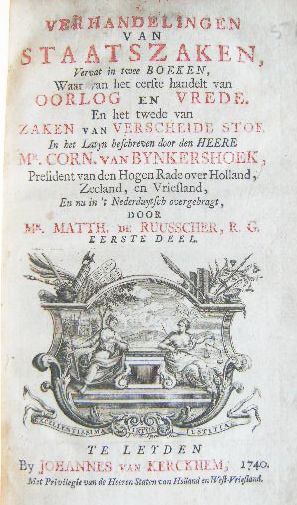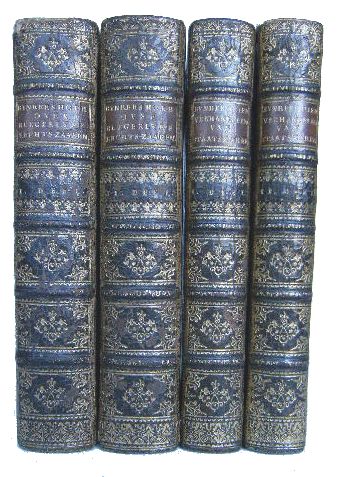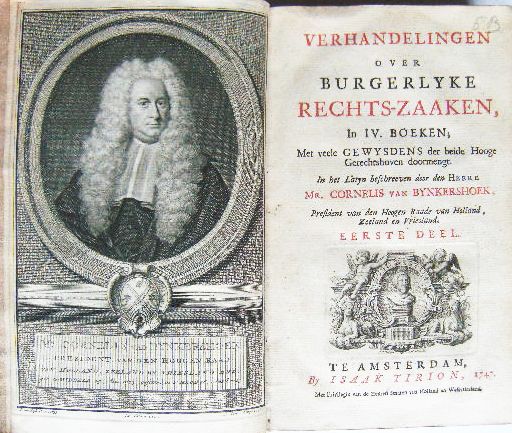 Eerste Nederlandse uitgaven van Quaestiones juris publici libri duo (1737) en van Quaestiones juris privati libri IV (1744). Zowel Dekkers als Star Numan verzijzen naar een Nederlandse uitgave van het eerste werk van 1739, maar die bestaat vermoedelijk slechts in handschrift. De vertaler van het tweede werk is niet bekend, Dekkers kent alleen de Latijnse uitgave.
*Dekkers p.16-18. Star Numan p.469-472.


---
CHIJS, Jacobus Anne van der Chijs(1831-1905)
Neêrlands streven tot openstelling van Japan voor den wereldhandel. Uit officieele, grootendeels onuitgegeven bescheiden toegelicht.
Amsterdam, Frederik Muller 1867.
XIV,530,[2]p. Fine recent cloth, gilt-lettered back, orig. printed front cover laid down. Afew leaves foxed. Fine copy. (#32183)
€ 1250
First (only) edition. A history of the Dutch role in opening Japan to world trade based upon a great number of documents.
Appended are the following pieces:
Geschiedenis der afschaffing van den Komps- en Kambanghandel, Geschiedenis van het Nederlandsche marine-detachement in Japan, Wederlegging van het medegedeelde over de Nederlandsche politiek jegens Japan in: Perry: Expedition to Japan, Japansche publicatiën naar aanleiding der additionele artikelen, Chronologisch overzigt
, and
Over het gebeurde van 1862 tot 1866
.
*Cordier c.588.
---
Mathematics in the social sciences
CONDORCET, Marie Jean Antoine Nicolas Caritat de (1743-1794)
Essai sur l'application de l'analyse à la probabilité des décisions rendues à la pluralité des voix.
Paris, de l'Imprimerie royale 1785.
4to. [II],CXCI,304p. Uncut in fine recent calf-backed marbled boards, gilt back. A very small old stamp to title. (#31004)
€ 2500
First (only) edition. A pioneering attempt to apply mathematical methods to social phenomena. The
Essay on the application of analysis to the probability of majority decisions
investigates the probability of decisions taken in political and juridical processes. It also outlines a concept for collective decisions with the highest probability of producing 'correct' answers to particular problems, now known as the Condorcet-method. Condorcet had a great reputation as a mathematician and was since 1769 'perpetual secretary' of the
Académie des Sciences
. He developed an interest in politics and economics under the influence of his friend Turgot, whom he dedicated a biography, and became one of the major representatives of the idea of republicanism, economic liberalism, social progress and rational education.
Condorcet's mathematics are notoriously abstruse. Todhunter in his history of the theory of probability finds the book 'excessively difficult', adding that it is 'in many cases almost impossible to discover what Condorcet means to say, the obscurity and self contradiction are without any parallel'. Yet it has been recognized as a path-breaking achievement in the early development of the use of mathematics in the social sciences.
*Einaudi 1214. Not in Kress or Goldsmiths'. New Palgrave I,p.567. Todhunter p.351-410.
---
CONDORCET, Marie Jean Antoine Nicolas Caritat de
(1743-1794)
Oeuvres completes.
A Brunswick, chez Vieweg, et a Paris, chez Henrichs ... Fuchs ... Koenig ... Levrault, Schoell et Cie An XIII 1804.
21 volumes. With 7 folding leaves at end of last volume. Uncut in contemp. quarter red calf, backs richly gilt with double black labels, red marbled sides. Some scattered foxing, but a very attractive set. (#34383)
€ 2000

First collected edition, edited by Condorcet's widow Sophie de Grouchy, with the assistance of A.A.Barbier, P.J.G.Cabanis and D.J.Garat. Constituted as follows:
1-4. Mélanges de littérature et de philosophie. Eloges des académiciens de l'Académie royale des sciences ...
5. Mélanges de littérature et de philosophie. Vie de M. Turgot, publiée en 1786.
6-7. Mélanges de littérature et de philosophie. Vie de Voltaire, suivie des avertissements et notes, insérés par Condorcet, dans l'édition compléte des Oeuvres de Voltaire.
8. Mélanges de littérature et de philosophie. Esquisse d'un tableau historique des progrès de l'esprit humain.
9. Mélanges de littérature et de philosophie. Sur l'instruction publique.
10. Mélanges de littérature et de philosophie. [Various pieces.]
11-12. Mélanges de politique. [Various pieces.]
13-14. Mélange de politique. Sur les assemblées provinciales.
15-18. Mélanges de politique. [Various pieces.]
19-21. Mélanges d'économie politique. [Various pieces, i.a. Lettre d'un laboureur de Picardie and Réflexions sur le commerce des blés.]


---
A socialist community in Texas
CONSIDERANT, Victor
(1808-1893)
Au Texas. [
Bound with
:] Au Texas. Quatrième partie complément. Bases et statuts de la Société de Colonisation Européo-Américaine au Texas.
Paris, Librairie Phalanstérienne 1854.
2 volumes in 1. [IV],194,4 [Catalogue de la Librairie Phalanstérienne]; [II],113p. With 2 folding engraved maps coloured in outlines of the United States (30 x 18 cm) and of Texas after J.H.Colton (35 x 30 cm) in the first volume and a table in the second volume. Contemp. half green morocco, gilt back, marbled sides. Occasional light foxing as may be expected. (#36139)
€ 3500

First edition of the first work (consisting of 3 'parties') and first and only edition of the very rare second work. Published in a very limited number of copies to 'report to his friends' the authors's plans for the founding of a socialist community in Texas.
Victor Considerant was the most eminent disciple of the utopian socialist Charles Fourier, for a long time the leader of the Ecole sociétaire, and the author of the best comprehensive review of the societarian doctrine. After the failed insurrection against Napoleon III in 1849 he was forced into exile in Belgium.
In 1852 Considerant visited America to investigate the possibilities for the founding of a colony based upon Fourier's principles. In the present volume he reports about his experiences and details his plans. In the beginning of 1855 some 200 colonists arrived in Texas where they founded the colony La Réunion near Dallas. Unfortunately the lack of ability to succeed at farming - most colonists were artisans, artists or free spirits and only few were farmers - and the Texas weather conditions resulted in food shortage. Only after a few months colonists began to leave and the colony was officially dissolved in 1857.
*Del Bo p.70. Sabin 15925 (not listing the second work).


---
[COURT, Pieter de la (1618-1685)]
Interest van Holland, ofte gronden van Hollands-welvaren. Aangewezen door V.D.H.
Amsterdam, Joan. Cyprianus vander Gracht 1662.
Small 8vo. [XVI],267,[5]p. Contemp. overlapping vellum. As often preceded by another work by the same author. (#16042)
€ 650
First edition, one of at least nine issues from the same year to which no priority has been assigned. The only Dutch economic 'bestseller', a renowned plea for commercial and industrial freedom. The work went through at least thirteen editions by 1746, including German, English and French translations. Contemporaries attributed it to John de Witt, which might not surprise considering the favourable attitude of the author towards much what was practice in the Dutch Republic during the seventeenth century.
*Wildenberg 1042. Carpenter III,1. Kress 1092.
Preceded by
:
[Pieter de la COURT
] Historie der gravelike regering in Holland, beschreven door V.H... [Amsterdam 1662.] [XVI],264p. With fine engraved title-page. *Wildenberg 1052.
---
[COURT, Pieter de la (1618-1685)]
Aanwysing der heilsame politike gronden en maximen van de Republike van Holland en West-Vriesland.
Leiden & Rotterdam, Hakkens 1669.
4to. [XLIV],523,[1 errata]p. With engraved title. Contemp. overlapping vellum. A first blank with bibliographical annotations in a nineteenth-century hand. (#19083)
€ 750
First edition thus. A much enlarged edition of a famous plea for commercial and industrial freedom originally published (and several times reissued) in 1662 as a small volume with the title
Interest van Holland
. The
True interest and political maxims of the Republick of Holland
(the title of the English edition) expresses much of the ideological background of the Dutch Republic in the seventeenth century.
The book was translated into German, French (as
Mémoires de Jean de Witt
!) and English (...
by John de Witt
!), apparently not without success because these translations too went through several editions, even in the eighteenth century.
*Wildenberg 1111. Knuttel,
Verboden boeken
4. Carpenter,
The economic bestsellers before 1850
6. Goldsmiths'-Kress 01895.1.
Bound with
:
Pieter de HUYBERT
(1622-1697) Apologie tegens de algemeene, en onbepaelde vryheyd, voor de oude Hollandsche regeeringe ... Middelburg, Karel de Vrye 1669. 127p.
---
[CUPPE, Pierre.]
Heaven open to all men: or, a theological treatise, in which, without unsettling the practice of religion, is solidly prov'd by Scripture and reason, that all men shall be saved, or, made finally happy.
London, printed for Jacob Robinson 1743.
XXIV,115p. Finely bound in recent half calf, back lettered gilt, marbled sides. Upper inner corner vaguely stained, first leaves browned. (#39257)
€ 350
First English edition, published before the French edition, with a preface by the anonymous translator. A 'mildly deistic' treatise arguing that salvation is universal. Originally written in French this had secretly circulated in manuscript since about 1720 and was first printed in French not before 1768. Written in an anticlerical spirit and, though in the eyes of the modern reader not anti-Christian, banned on the same grounds as the works of Holbach.
'The author states his perplexity in reconciling the conception of God's goodness with the teaching that salvation is reserved for the privileged few. This matter has continually been the subject of his meditation. But having found no satisfactory solution in the orthodox doctrine ... he has originated a new plan of salvation ... If God does not save all men without exception, either it is because He does not wish to, or He is unable to do so, or man is unworthy of salvation. Examining each of these propositions in order, he rejects the first as counter to orthodox doctrine, the second as not only unorthodox, but blasphemous ... He likewise dismisses the third proposition, for although man after the fall of Adam was unworthy of salvation, after the atonement, he again became worthy. Hence, all men are saved.' (I.O.Wade)
Little seems know about the the author, other than what is said on the title of the second French edition of 1783: 'Par feu Mr Pierre Cuppé, prêtre-bachelier en théologie, chanoine régulier de Saint-Agustin, prieur-curé de la paroisse de Boin, diocèse de Saintes'.
*Peignot p.215. Jammes 701 (ms.) and 702 ('seule édition' 1768!). Wade p.33-44.
---
DAUBIE, Julie Victoire (1824-1874)
La femme pauvre au XIXe siècle.
Paris, Guillaumin 1866.
VII,[1],450p. Orig. printed green wrappers. Circular stamp ('Bibliotheque de Mr Maurice Aubry') on title. Mild foxing throughout. (#25621)
€ 500
First edition. An essay on the female conditions and resources for women in France in the nineteenth century: manual labour, primary, secondary and university education, public and welfare services, political rights, prostitution, etc. It was awarded by the Académie de Lyon as well as on the occasion of the Exposition universelle of 1867. Daubie was the first woman to have graduated from a French university. She was as a scholar and journalist a long-life activist for women's rights. A second expanded edition appeared 1869-70.
---
FLORI, Lodovico
(1579-1647)
Trattato del modo di tenere il libro doppio domestico col suo esemplare. Composto dal padre Lodovico Flori della Compagnia di Giesu. Per uso delle case, e collegii della medesimà Compagnia nel Regno di Sicilia.
In Palermo, per Decio Cirillo 1636.
3 parts in 1 volume. Folio. [IV],126,[2]p. & 2 folding lvs., [III]p., 32 lvs, [6]p., 50 lvs, [7]p. Contemp. vellum, few minor imperfections. Vague water stain in uppermargin, a few small marginal ink spots and some foxing and browning as may be expected, upper outer corner of second half rounded without any loss of text. (#20193)
€ 5500

First edition. A rare and important work on double-entry bookkeeping. Other than most works of the period it is not concerned with its application to the transactions of merchants and traders, mercantile bookkeeping, but to non-trading activities. Flori was a Jesuit who spent most of his life in Sicily and he wrote this book for the benefit of Jesuit monasteries and colleges.
Flori was well acquainted with the writings of previous authors, and particularly praises Angelo Pietra's Indrizzo de gli economi (1586). He follows that work closely, and recognises his indebtness to his predecessor, but 'far outpasses it, making numerous important innovations'. Flori was the first author to introduce the concept of a financial year and the possibily to get at any time an overview of the financial situation. 'It is an outstanding work. Flori's precise and clear-cut definitions and his illustrations of double-entry books testify to his firm grasp of the subject of bookkeeping ...'
A second edition appeared 1677.
*Goldsmiths'-Kress 00671.3. Kress 517. Kress, Italian 146. Historical accounting literature p.3.

---
FOKKER,G.A.

Geschiedenis der loterijen in de Nederlanden. Eene bijdrage tot de kennis van de zeden en gewoonten der Nederlanders in de XVe, XVIe, en XVIIe eeuwen.
Amsterdam, F.Muller 1862.
VI,[2],XII,275,[1]p. Met grote uitsl. 'Loterijkaart voor Egmond aan Zee van 1620' en als losse bijlage de 'Brugsche loterijkaart'. Contemp. half leer, rug verguld. Mooi ex. (#35848)
€ 200
---
GOGEL, Isaäc Jan Alexander (1765-1821)
Memoriën en correspondentiën, betrekkelijk den staat van 's Rijks geldmiddelen in den jare 1820. Uitgegeven door zijnen zoon J.M.Gogel. [With:] Bijvoegsel ... bevattende de algemeene staten van den aangegeven' in-, uit- en doorvoer van de jaren 1802-1809 en 1814-1816.
Amsterdam, Johannes Müller 1844.
XII,528,117,[3]p. Contemp. half cloth, back faded with a small tear. The Naberigt (p.525-528) erroneously bound after p.VI. (#38719)
€ 250
First (only) edition, rare with the often lacking supplementary part with statistical details on Dutch foreign trade. Memoirs and correspondence on the financial situation of the Netherlands in the beginning of the nineteenth century, posthumously published by his son.
Gogel was an adherent of the Patriot party, yet opposed against the radical revolutionary regime that was overthrown by the coup d'état of general Daendels in 1798. He was a member of the newly installed Executive Government for a short time and then became minister of finance, He held that position for most of the time until the restoration of the monarchy in 1813.
Gogel's major achievement was the introduction of a General Tax Plan, replacing the many existing internal tariffs by taxes on property and income. It resulted in a more righteous taxation, the abolition of many obstructions to trade, enhanced revenues and reduced administrative costs. It was of lasting importance for the economic and financial policy of the Netherlands in the nineteenth century.
*Goldsmiths'-Kress 33846.16.
---
Herring fishery.
A small collection of valuable tracts, relating to the herring fishery; comprehending, John Keymer's celebrated observations on the Dutch fisheries, in 1601. The grand pensionary John De Witt's sentiments on the same subject: and a discourse shewing the necessity, and proving the practicability, of establishing a British herring fishery, by Sir Roger L'Estrange. To which an introduction is prefixed.
London, printed for R.Griffiths 1751.
[IV],XXIV,37,[4],34-74p. Finely bound in quarter calf with marbled boards, gilt back with red label. (#40834)
€ 350
First (only) edition. This was published to show the advantages that the herring fishery had brought the Dutch Republic, and to advance the establishment of a British herring fishery. The editor in his preface holds that 'the sudden and quick growth of the maritime power of the United Provinces, a parallel to which may be sought in vain in all histories, either ancient or modern, was absolutely and entirely owing to that zeal and diligence with which they applied themselves to the herring fishery'.
---
HOOGHE, Romeyn de
(1645-1708)
Spiegel van staat des Vereenigde Nederlands. Waar in de macht en 't vry bestier, van yder der zeven verbonde provincien en haar byzondere steeden, zo in rechten als regeeringen werd ontvouwd. Aanwyzende aan, de in, en uytheemschen, alle de hooge en lage rechtbanken, collegien en ampten, dewelke in de zelve, tot dienst van den staat, en het recht zyn ingesteld. Hoe, wanneer en waar, voor de zelve yets te verrichten is. [
Deel 2
:] Spiegel van staat. Vervattende de macht der generaliteyt ...]
Amsterdam, Jan ten Hoorn 1706-07.
2 delen. 4to. [XVI],480,55,143,44,[4]; [XX],335,339,[8]p. Met 2 frontispieces, 2 kopvignetten en 16 uitsl. platen door Romeyn de Hooghe. Contemp. perkament. Licht gebruind, overigens fraai. (#23195)
€ 1000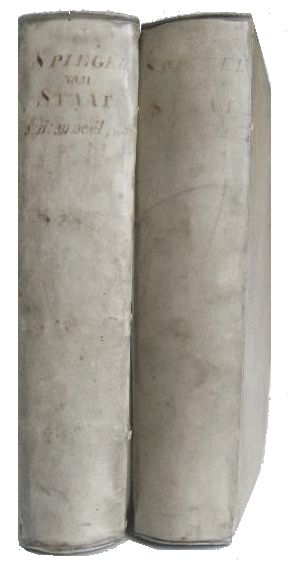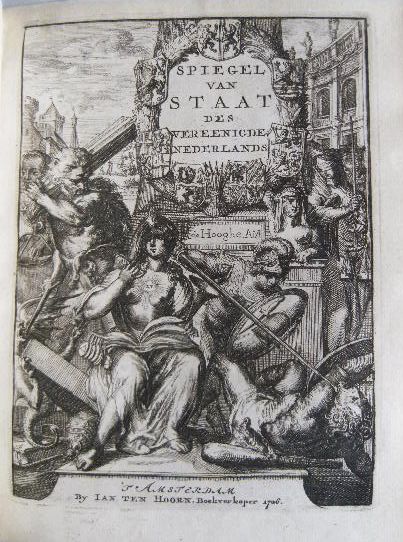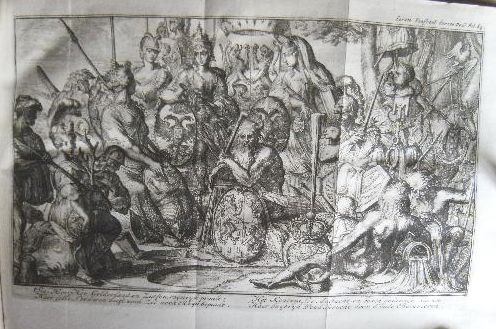 Eerste (enige) druk. Een uitvoerige beschrijving van de staatsinrichting van de Republiek. Het eerste deel behandelt de rechten en instellingen van de provincies, steden en landen van achtereenvolgens Gelderland, Holland en West-Vriesland, Zeeland, Utrecht, Friesland, Overijssel, en Groningen en de Ommelanden. Het tweede deel, met een iets afwijkende titel, behandelt de generaliteit, ook vergeleken met het bestuur van andere staten, haar ontstaan uit de Unie van Utrecht en haar instellingen, de admiraliteiten, hogere en lagere rechtbanken, de Oost- en West-Indische, Surinaamsche en Groenlandsche compagnien, en de staatse bezittingen in Zeeland, Brabant, Limburg en Oost-Friesland.
De Hooghe was, hoewel vooral bekend als graveur, schilder en tekenaar, ook schrijver met grote interesse in politieke, juridische en economische onderwerpen. Hij was oranjegezind, wat hem met name de laatste jaren van zijn leven, gedurende het begin van het tweede stadhouderloze tijdperk, toen dit werk verscheen, veel moeilijkheden opleverde.
*De Buck 6760. J.Landwehr, Romeyn de Hooghe as a book illustrator 103. NNBW VI,k.798.


---
'Rarely does a single volume combine in itself so much economic interest and so many bibliographical puzzles'
Law, John. - [GREAT MIRROR OF FOLLY]

Het groote tafereel der dwaasheid, vertoonende de opkomst, voortgang en ondergang der actie, bubbel en windnegotie, in Vrankryk, Engeland, en de Nederlanden, gepleegt in den jaare MDCCXX ... Gedrukt tot waarschouwinge voor de nakomelingen, in 't noodlottige jaar, voor veel zotte en wyze 1720.
[Amsterdam 1720.]
Folio. Title and 5 text-parts: [II]; 25,[1]; 52; 26,29-31 (thus complete); [8]; 10p. With 75 partly folding and/or double-page plates. Contemp. half calf, gilt back with red label, spine ends and corners neatly restored, boards rubbed. Some light foxing mostly to blank margins only, tiny hole in plates 11 and 23. A very good copy. (#15846)
€ 5500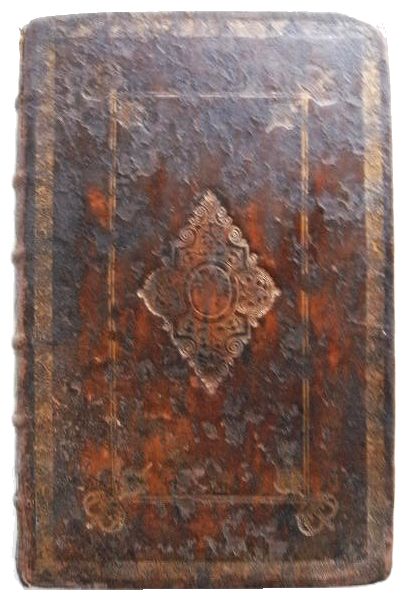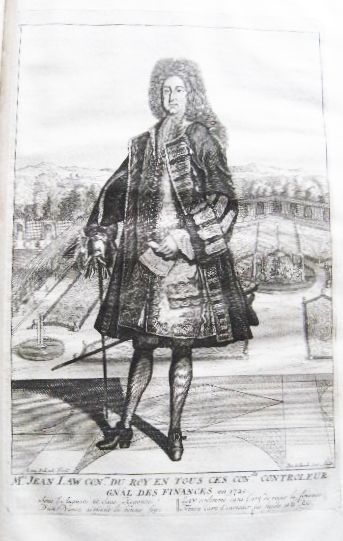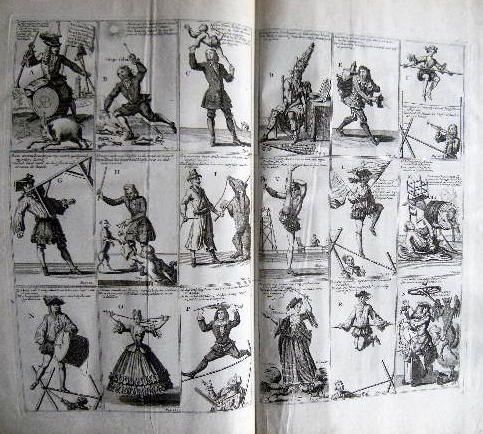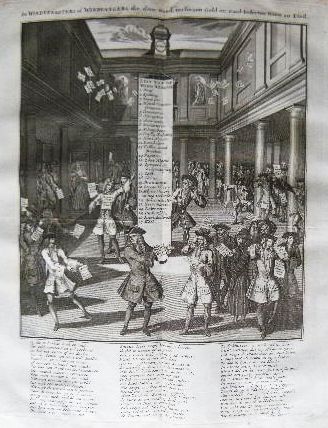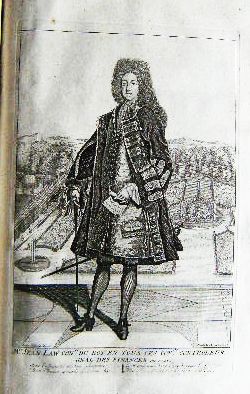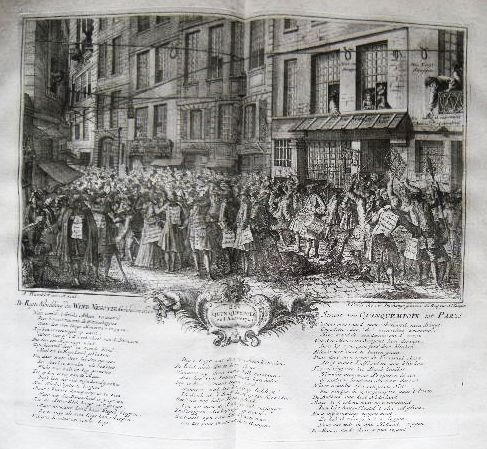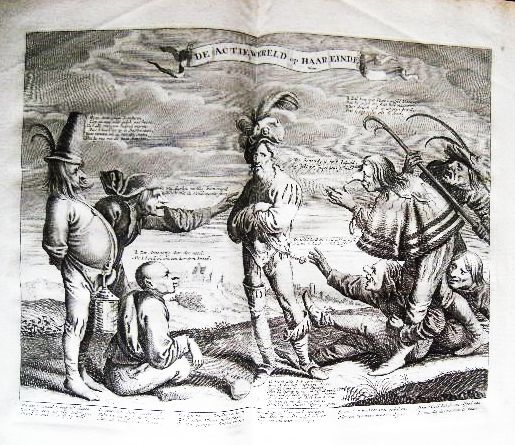 A renowned monument for the speculative mania of 1720: The great mirror of folly, showing the rise, progress, and downfall of the bubble in stocks and windy speculation in France, England, and the Netherlands in the year 1720. It constitutes a collection of mostly satirical plates on the operations of John Law in France and the South Sea Bubble in England, together with the text of the charters of speculative companies in Holland and a number of satyrical plays and comedies published during the bubble.
The bibliographical details of this volume are notoriously complicated; they have been amply studied by Muller and Cole. Neither the publisher nor the exact date of publication are known, most likely it was issued over a period of several years. Copies are made up of a variable number of plates and parts of printed text, probably according to the actual availability of the various leaves, and hence no two copies of the book are exactly the same. Muller and Cole count 74 'regular' plates, as well as some 25 plates that are included only occasionally. Most copies have the majority (but rarely all) of the regular and a few of the supplementary plates. 'Rarely does a single volume combine in itself so much economic interest and so many bibliographical puzzles' (A.H.Cole).
The first text-part reprints the charters of some 30 speculative Companies of commerce, navigation and assurance established or at least projected in Holland between June and October 1720. The following parts contain comedies and poetry published during the mania, an explanation of the large print with playing cards known as April-kaart, and four Letters on the stock-jobbery.
The present copy has the regular plates 1-26, 28-63 and 65-74, as well as the supplementary plates 1 (listing 74 prints) and 11, and one plate not mentioned by Cole; plates 12, 17, 22, 46 and 65 are in second state. These plates include the map of the canal from Utrecht to the Zuiderzee (6), the double-page True picture of the wind-trade of the rue Quinquempoix in the year 1720 (16), the double-page folding plate with playing cards known as Aprilkaart (65), and both the rare Magic cards (73 and 74).


---
Système de Law
Law, John. -

Collection of approx. 200 legal documents on John Law, the rise and downfall of the
Compagnies des Indes
and the
Banque Royale
, and the financial crisis of 1720, known as
Système de Law
.
A Paris, de l'Imprimerie royale 1717-23.
Bound in 1 volume. 4to. 470 lvs foliated in ms., preceded by 6 lvs ms. index. Title-pages usually with a woodcut vignette, the following leaf with a woodcut head-piece. Contemp calf, gilt back with red label ('Etabliss de la Comp des Indes'), marbled endpapers, red edges. An engraved portrait pasted to first blank. Some occasional browing and foxing. A part of the pieces bound without A1, but all titles are repeated on the following leaf. (#32299)
€ 15000

Includes i.a.:
- Lettres patentes en forme d'edit, portant establissement d'une Compagnie de Commerce, sous le nom de Compagnie d'Occident. Donné à Paris au mois d'Aoust 1717. 19p.
- Arrest du Conseil d'estat du roy, concernant la Banque Royale. Du 27 Décembre 1718. 8p.
- Déclaration du Roy pour convertir la Banque générale en Banque Royale. Donnée à Paris le 4 Décembre 1718. 15p.
- Arrest du Conseil d'estat du roy, concernant la réunion des Compagnies des Indes Orientales & de la Chine, à la Compagnie d'Occident. Du 17. Juin 1719. 15p.
- Arrest du Conseil d'estat du roy, qui cede à la Compagnie des Indes le benefice sur les monnoyes, pendant neuf années. Du 25. Juillet 1719. 3p.
- Arrest du Conseil d'estat du roy, par lequel Sa Majesté ... accorde le bail [des] fermes generales à la Compagnie des Indes pour neuf années. Continüe les privileges de ladite Compagnie jusques en l'année 1770 ... Du 27 Aoust 1719. 8p.
- Arrest du Conseil d'estat du roy, qui reçoit les offres de la Compagnie des Indes pour le remboursement des quatre millions de rentes constituées au profit de ladite Compagnie sur la ferme du tabac ... Du 19 Septembre 1719. 7p.


---
Law, John. - [DUTOT, Nicolas (1684-1741)]
Reflexions politiques sur les finances, et le commerce. Où l'on examine quelles ont été sur les revenus, les denrées, le change étranger, & conséquemment sur notre commerce, les influences des augmentations & des diminutions des valeurs numéraires des monnoyes.
La Haye, chez les freres Vaillant & Nicolas Prevost 1738.
2 volumes. 12mo. [II],XXI,[1],444; [II],XII,456p. With folding table to volume 1 and 9 folding tables to volume 2. Contemp. calf, gilt backs with double labels, marbled endpapers, red edges, minor and neat repairs to extremities. (#14853)
€ 2500
First edition. An examination of the effects of the increase and decrease of the value of money on public revenue, prices and foreign exchange and in consequence on commerce. The author had been a cashier of the
Banque Royale
that merged with John Law's
Compagnie des Indes
in 1720. Until recently his first name was known as Charles and no further biographical details were known.
It is clear that Dutot supported the system of John Law, and his book includes a refutation of Melon's
Essai politique sur le commerce
of 1734, yet it is according to A.Thiers 'undoubtly the most profound book on Law's system and the causes of its fall'. New editions appeared in 1743 and 1754 and it also was included in Guillaumin's collection
Economistes financiers du XVIIIe siècle
.
*Kress 4381. INED 1695. EHB 1295. This edition not in Einaudi. Stourm p.93. Palgrave I,p.660.
---
The best account of the system of John Law
Law, John. - [MARMONT DU HAUTCHAMP, Barthélemy 1739 (1682-c.1760)]
Histoire du système des finances, sous la minorité de Louis XV. Pendant les années 1719 & 1720. Précedée d'un abregé de la vie du duc Régent, & du Sr. Law.
La Haye, Pierre de Hondt 1739.
6 volumes in 3. 12mo. LIV,55-204,[II],312; [II],208,[II],286; [XIV],294,[XVIII],246p. With an engraved plate, 2 folding tables printed on both sides and a seal of the Banque Royale. Contemp. calf, gilt backs with double labels, marbled sides and endpapers. Fine set. (#12715)
€ 5500
First (only) edition. An account of the financial operations of John Law and his
Compagnie des Indes
, including a great number of relative memoirs, letters patent, decrees, declarations, etc.
Marmont du Hautchamp had been an admirer of John Law's system and his book is not written without partiality but has yet been recognized as the best contemporary history of the system and its most precious source.
John Law's operations began with the foundation in 1716 of the
Banque Générale
, soon afterwards renamed
Banque Royale
. This was followed by the scheme of colonization known as
Mississippi scheme
in the
Compagnie des Indes
which, by absorbing various other chartered companies, acquired the monopoly on the trade to America, Africa and China. Moreover, the company obtained the monopoly of tobacco, the control of the mint, the payment of the national debt, and the farm of the taxes. Within a few years Law's companies thus got almost complete control over France's overseas trade, its currency and public finances. In 1719 the
Compagnie des Indes
and the
Banque Royale
were united, and the promising outlooks of the new company lead to an unprecedented speculation in its shares. As known the bubble burst in 1720, cash payments were suspended and Law fled from the country, leaving behind ruined many of his former supporters.
*Kress 4447. Einaudi 3728. Goldsmiths' 7712. Stourm p.73. Palgrave II,p.576.
---
Extra illustrated copy
Law, John. - WOOD, John Philip
(1762-1838)
The antient and modern state of the parish of Cramond. To which are added, biographical and genealogical collections, respecting some of the most considerable families and individuals connected with that district; comprehending a sketch of the life and projects of John Law of Lauriston, Comptroller General of the Finances of France.
Edinburgh, printed by John Paterson 1794.
4to. VIII,291p., with errata on p.VIII, and a leaf with directions for the binder at end. With an engraved map, 7 engraved plates, an engraved oval portrait of John Law, and 3 folding tables. This copy has additionally an early oval
watercolour view of Lauriston Castle
, a folding engraved leaf advertising the sale of the Castle with a plan of the castle and the grounds and a descriptive text dated 1855 (some tears), and a proof impression (?) of the portrait of Law. Contemp. calf, expertly rebacked, light wear to corners, sides with inside and outside gilt floral borders, marbled edges and endpapers. (#31974)
€ 900

First (only) edition, an extra illustrated copy. A history of the parish of Cramond (Scotland), with a long treatise on 'its most remarkable individual' John Law and his Mississippi scheme. There are chapters on the early history of the district, the estates and their proprietors, ecclesiastical state, schools and mode of supporting the poor, manufactures and fisheries, rent, agriculture and produce, population, minerals, remarkable customs, etc.
An important part of the book (p.162-265) is taken by a well-documented history of the life and projects of John Law. The author, who was deaf and dumb, had printed in 1791 'a few copies of a small tract' titled A sketch of the life and projects of John Law of Lauriston (Kress B.2240). In the introduction to the present volume he writes that he had published that tract 'solely from the hope, that... I should be favoured with further communications concerning the parish in general, and Mr Law in particular'. In this hope he was 'not entirely disappointed, for I soon afterwards had the pleasure of receiving from Paris several books and papers which contributed to clear up some mistakes I had fallen into respecting the Mississippi system'. He then gives a detailed account of Law's private life, his travels and operations in Europe before 1716, the establishment of his Banque générale (later Banque royale) that year, the founding of the Compagnie de la Louisiane ou d'Occident (later Compagnie des Indes), the ultimate complete control over France's foreign trade and financial system, confirmed by his appointment as France's controller general of the finances (minister of finance), the specualative mania that followed, and the downfall of the system.
*Kress B.2868. Goldsmiths' 15936.


---
the Tolpuddle Martyrs
LOVELESS, George (1797-1874)
The victims of Whiggery; being a statement of the persecutions experienced by the Dorchester labourers; their trial, banishment, &c. &c. also reflections upon the present system of transportation; with an account of Van Dieman's [sic] land, its customs, laws, climate, produce, and inhabitants. Dedicated (without permission) to Lords Melbourne, Grey, Russell, Brougham, and Judge Williams. Second edition.
London, published under the direction of the Central Dorchester Committee, by Effingham Wilson 1837.
32p. Recent blank vellum. A few brown spots but a very good copy. Upper margin of last 2 leaves cut short affecting page numbering only. (#15059)
€ 2500
A milestone in the history of British trade unionism. George Loveless and his comrades 'had struck a blow from which the opposition to trades unionism never recovered and the 'Tolpuddle Martyrs' are saints in the trade union hagiology'.
In the early 1830's a group of six agricultural labourers from Tolpuddle near Dorchester led by George Loveless formed a Friendly Society of Agricultural Labourers to fight for higher wages. Although trade unions were not forbidden since the Combinations of Workmen Act of 1825 they were accused of swearing secret oaths, thus violating an obscure and obsolete Unlawful Oaths Act of 1797. They were found guilty and sentenced to transportation for seven years to Australia. Growing popular protest - almost a million people signed a petition and 50.000 people marched in London for their release - resulted in their full pardon in March 1836.
The present publication is largely devoted to an account of Loveless' transportation (due to illness he left later than his comrades) to Australia, with details on the hard conditions aboard transports and the dangers of the voyage. He arrived in Hobart on Van Diemen's Land (Tasmania) on 4 September 1833. He first worked in irons on the roads and later as a shepherd and stock-keeper with some privileges. After the pardon he returned to England in June 1837. He became an active Chartist and in 1844 emigrated to Canada.
This went through at least eight editions in 1837 and 1838. All editions seem rare.
*Kress has the present second edition only C.4422. Goldsmiths' 30126.
Printing and the mind of man
305.
---
MARQUARD [or MARQUART], Johann
(1610-1668)
Tractatus politico-juridicus de iure mercatorum et commerciorum singulari ...
Francofurti, ex officina Thomae Matthiae Götzii [Frankfurt, Thomas Matthias Götz] 1662.
2 parts in 1 volume. Folio. [XII],572, [4],156,158-213,215-278,277-744,[138]p., thus complete. With an engraved frontispiece. Contemp. vellum, little wrinkled, neat repair to top of back. Worming in outer margin mostly in second half not affecting text. Some mild browning, small stamp on frontispiece and in the margin of a few other pages. Bound with another work of minor importance. (#33979)
€ 2750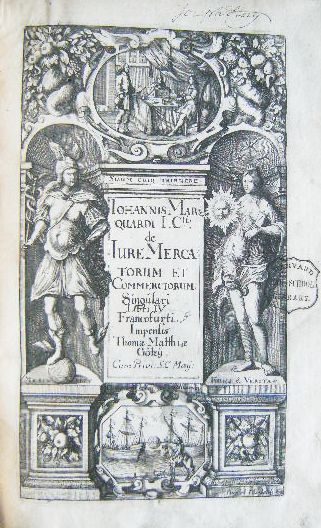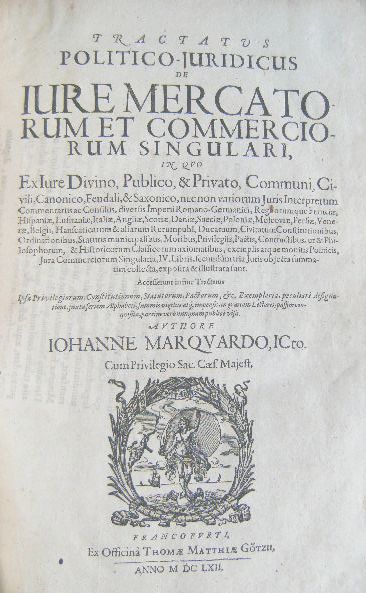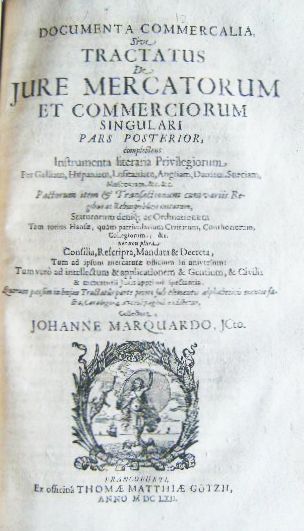 First (only) edition. An important work by a jurist and prominent citizen of the Hanseatic town of Lübeck. The first part, written in Latin, is dedicated to the laws and customs of international commerce and maritime law.
The important second part with own title-page Documenta commercalia contains a great number of documents, partly never before published and now lost. It is mostly in German, but some parts are in Dutch, French, Spanish or Latin. It includes documents, treatises, privileges, etc. on international commercial relations, the Hanseatic League, the trade to the Americas, Willem Usselinx' Argonautica Gustaviana (p.373-540), a collection of documents on the Swedish South Trade Company and its settlement New Sweden, afterwards Pennsylvania, the Dutch West India Company, etc.
*Kress 1097. Goldsmiths' 1676. Sabin 44661. Asher p.85.


---
MILL, James
(1773-1836)
Elements of political economy.
London, printed for Baldwin, Cradock, and Joy 1821.
VIII,235,[1 blank],[237-240,8 publisher's advertisements]. Uncut in fine recent half calf, gilt back with red label, marbled sides. A very fine copy. (#19997)
€ 1850

First edition. A summary of the state of the science in the beginning of the nineteenth century and as such the first English text book of classical economics. It arose from the lessons given by James Mill to his son John Stuart and is fully based upon Smithian and Ricardian theories with respect to the production and distribution of wealth and upon Malthusian theories of population.
*Kress C.739. Goldsmiths' 23118. Einaudi 3892. McCulloch p.17.

---
MORELLET, André (1727-1819)
Prospectus d'un nouveau dictionnaire de commerce. En cinq volumes in-folio proposés par souscription.
Paris, chez les freres Estienne 1769.
[II],381,[1 approbation],[2],34,III-VIIIp., table of contents bound at end. Contemp. calf, gilt triple-line borders on both sides, back richly gilt with red label, marbled edges and endpapers, extremities neatly repaired. A small old circular stamp below the impressum. (#30139)
€ 2500
First (only) edition. The outlines for the author's project for a new commercial dictionary to replace the outdated and incomplete dictionary of Savary de Bruslons
Dictionnaire universel de commerce
. 'This prospectus, which is undoubtly one of the very best specimens of that class of works, was intended to exhibit the principles and plan of a Commercial Dictionary, in the compilation of which Morellet was then actively engaged, which was to extend to five, or perhaps six, volumes folio. And from his acknowledged learning and talent, the liberality of his views, and his capacity for laborious exertion, there can be no doubt, had the projected Dictionary made its appearance, that it would have been infinitely superior to that of Savary, or any other that had then been published. Morellet continued to occupy himself with this gigantic enterprise down to the Revolution, when he was compelled finally to abandon it.' (McCulloch)
Though the work never appeared a part of the collected material was used by Jacques Peuchet for his
Dictionnaire universel de la géographie commerçante
, published in 1799-1800 in 5 volumes. Morellet's enormous library was sold soon after his death, but it is catalogued in the additional 34 pages of the present volume:
Catalogue d'une bibliothèque d'économie politique, formée pour le travail du Nouveau Dictionnaire de Commerce
. This was a major source for the composition of the
Biblioteca di Luigi Einaudi
, and no doubt of great help for other collectors of economic books.
*Kress 6663. Goldsmiths' 10507. Einaudi 4024. McCulloch p.62.
---
NAIGEON, Jacques André
(1738-1810)
Recueil philosophique ou mélange de pieces sur la religion & la morale. Par différents auteurs.
Londres [Amsterdam, Marc Michel Rey] 1770.
2 volumes in 1. Small 8vo. [IV],190, [IV],253,[1]p. Contemp. calf, back richly gilt, red edges, marbled endpapers. An old lithographed library ticket to front paste-down. (#38066)
€ 1500

First (only) edition. A collection of 15 enlightened and materialistic essays by various authors, including Dumarsais, Diderot, Freret, Holbach, Mirabaud, Levesque de Burigny and David Hume. Collected or translated by Naigeon, a French man of letters, contributor to the Encyclopédie, atheist, and friend of the baron d'Holbach.
Of particular interest are the two essays by David Hume, here published for the first time in any language, translated by d'Holbach: Dissertation sur l'immortalité de l'ame and Dissertation sur le suicide. These essays were written around 1755 and printed as part of a book with the title Five dissertations. It was distributed among a selected group of readers only. These two essays provoked great controversy among them and the publisher Andrew Millar convinced Hume, with great difficulty, to remove the two essays. They were replaced with the essay Of the Standard of Taste and the book was published with the title Four dissertations. The two essays were published for the first time in English only in 1777, shortly after Hume's death.
*Todd p.203. Jessop p.33-35 & 39 (at length). Vercruysse 1770.B2.

---
RADICATI, Alberto
(1698-1737)
Recueil de pieces curieuses sur les matieres les plus interessantes.
A Rotterdam, chez la veuve Thomas Johnson et fils 1736.
X,14,[2],15-384p. Somewhat later vellum, red edges. Long bio-bibliographical manuscript note in French to front free endpaper. Very mild browning in the beginning. (#40858)
€ 1250

First edition. Radicati was a free-thinker deeply influenced by Spinoza. An Italian nobleman he was exiled from Italy for his attacks on the political power of the church. He fled to England but after the publication of his defence of the right to suicide and euthanasia Philosophical dissertation upon death (1732) fled to Holland.
'Steeped in Machiavelli, Sarpi, and Bayle, Radicati also at some point discovered Spinoza, who became the prime influence on the further elaboration and growing radicalism of his ideas on society and politics, as well as in philosophy and religion. He was entirely at one with Spinoza in regarding 'democratical' government 'the most ancient and agreeable to the natural and free condition of men' (Jonathan I. Israel, Radical enlightenment, p.68-69).
The last part contains a translation of Jonathan Swift's infamous satirical Modest proposal for preventing the children of the poor people from being a burthen to their parents or country.
New editions appeared in 1749 (probably a title-edition of the present) and 1760.
*Bamberger 339. Not in Van der Linde, Wolf or SB.

---
RIKORD, Petr Ivanovich
(1776-1855)
Erzählung des Russischen Flott-Capitains Rikord von seiner Fahrt nach den Japanischen Küsten in den Jahren 1812 und 1813, und von seinen Unterhandlungen mit den Japanern. Gedruckt auf Allerhöchsten Befehl St. Petersburg 1816. Aus dem Russischen übersetzt von Aug. von Kotzebue.
Wien, zu haben bei R.Sammer [c.1817].
179p. Contemp. marbled boards, red edges. (#40839)
€ 600

Possibly an unauthorized reprint of the edition published in Leipzig in 1817. Rikord (or Ricord) was second-in-command under captain Vasily Golovnin on the expedition equiped in 1807 by the Russian government to explore the coasts of Kamchatka and the Kuril Islands. When the ship Diana entered the straits between Hokkaido (Matsmai) and Kunashir it was fired upon by the Japanese. Golovnin and some of his men started negotiations with the Japanese to convince them of their peacefull intentions, but they were captured. Rikord took over the command of the Diana and after long negotiations he managed to get the prisoners released in October 1813.
*Cordier c.464 (Leipzig edition).

---
[ROORDA VAN EYSINGA, Sicco
(1825-1887)
]

Uit het leven van Koning Gorilla.
[The Hague, B.Liebers 1887.]
16p. including front cover with woodcut illustration of a crowned gorilla. Front cover detached and margins frayed. Bookplate to verso of front cover. Printed on poor paper as always. (#29221)
€ 150

A notorious lampoon against William III, King of Holland (1849-1890), disreputable for his autocratic, hot-tempered and unreasonable character and immoral behaviour.
It is usually attributed to Sicco Roorda van Eysinga, who had been an army officer and engineer in the Dutch East Indies. Much like his contemporary and fellow-countryman Multatuli he came into conflict with the Dutch-East-Indian authorities and returned to Holland in 1864. His further life he was a radical journalist involved in the Dutch socialist, anarchist and freethinking movement, and, particularly after his removal to Switzerland in 1872, also influenced by or in relation with foreign socialist and libertarian thinkers like Proudhon, Kropotkin and Elie Reclus. Roorda never considered himself a socialist and is usually typified as an independent libertarian. He much pitied the fate of the working classes, he was anti-church, anti-colonial, anti-state and, vide the present publication, anti-monarchy.
*BWSAN VIII, p.225-8.

---
Eternal peace
[SAINT-PIERRE, Charles Irénée Castel de (1658-1743)]
Projet pour rendre la paix perpetuelle en Europe.
Utrecht, chez Antoine Schouten 1713.
2 volumes. Small 8vo. [VI],400,[9]; [II],423,[9]p. With engraved frontispiece to volume 1. Contemp. calf, backs richly gilt with red label, sides with gilt line borders, marbled edges, minor defect at top and tiny wormhole at foot of back of first volume, very light wear to corners. Without the portrait usually found in volume 2. (#23162)
€ 4500
First edition of the final text of the author's famous
Project for eternal peace
. This edition was preceded by three much more concise editions printed in very small numbers only.
The first notice of this project dates from 1708 in a small volume titled
Mémoire sur la réparation des chemins
. The publication of that volume was inspired by a journey made by Castel de Saint-Pierre in the winter of 1706-07 to his native province Normandy during which he had suffered from the miserable condition of the roads. Though the connection does not seem very obvious - Ter Meulen suggests that the roughness of the roads may have reminded him of the lack of smoothness in international relations - yet the volume ends with a notice in which the author remarks that 'during the last 14 days' all his attention was directed to a project 'for the establishment of a permanent arbitrage [between all nations] to settle without war their future differences and to also maintain eternal commerce between them'.
The present final version may have been influenced by the author's presence as secretary to Polignac at the difficult peace negotations of Utrecht in 1712. The ultimate version with the title
Projet pour rendre la paix perpétuelle en Europe
was published the next year by the Utrecht publisher Antoine Schouten.
Praised for his character by all, there is few agreement about the chimerical character of the works of the abbé de Saint-Pierre. Yet it has been noted that several of his suggestions seem to have been put in practice in some way in our days, including his plan for the establishment of a 'European parliament'.
*Goldsmiths' 5071. Einaudi 933. En Français dans le texte 137. J. ter Meulen,
Der Gedanke der internationalen Organisation
, p.180-221.
---
The last edition published during his lifetime
SMITH, Adam (1723-1790)
An inquiry into the nature and causes of the wealth of nations. The fifth edition.
London, printed for A.Strahan and T.Cadell 1789.
3 volumes. X,499; VI,518,[5]; VI,465,[50]p. Contemp. calf, backs richly gilt, gilt borders on all sides. Light foxing to the endpapers and perhaps the first and last few leaves, else fine. A very nice set. (#19423)
€ 2500
The last edition published during his lifetime of Smith's magnum opus. It repeats the text of the third edition which was the last edition edited by Smith himself.
*Vanderblue 3. Kress B.1722. Goldsmiths' 13794.
---
SMITH, Adam (1723-1790)
An inquiry into the nature and causes of the wealth of nations. The eighth edition.
London, printed for A.Strahan; and T.Cadell jun. and W.Davies 1796.
3 volumes. [II],X,499; [II],VI,518,[5]; [II-VIII],465,[50]p., bound with half-titles to volumes 1 and 2 but without half-title to volume 3. Contemp. half green calf, gilt backs, marbled endpapers and edges. Minor wear to corners. (#20541)
€ 1650
With the advertisement to the third and to the fourth edition.
*Vanderblue p.4. Kress B.3289. This edition not in Einaudi.
---
SMITH, Adam
(1723-1790)
Theorie der sittlichen Gefühle. Uebersetzt, vorgeredet, und hin und wieder kommentirt von Ludwig Theobul Kosegarten. [
And
:] Zweyter Band, welcher die Zusäzze zur sechsten Ausgabe enthält.
Leipzig, in der Gräffschen Buchhandlung 1791-95.
2 volumes in 1. [XXXII],463,[1 advert.], VIII,248,[1 errata]p. Contemp. boards, red edges, rubbed, corners and edges worn, back with part of covering paper gone. From the library of the German classicist Friedrich August Menke, with his name on front free endpaper. (#31736)
€ 2250

First edition of the second translation of Smith's Theory of moral sentiments, rare with the almost always lacking second volume. This translation was made after the sixth and final lifetime edition of 1790, which appeared a few months before Smith's death and includes substantial improvements and his last views on many specific points.
A first (incomplete) German translation appeared in 1770, done by Christian Günther Rautenberg after the third edition of 1767.
*Kress B.2212. Vanderblue p.42.

---
The earliest biography of Spinoza
Spinoza. -[LUCAS, Jean Maximilien
(1636/46?-1697)
]

La vie de Spinosa, par un de ses disciples: nouvelle edition non tronque'e, augmentée de quelques notes et du catalogue de ses escrits, par un autre de ses disciples. &c.
A Hambourg [Amsterdam], chez Henry Kunrath 1735.
Small 8vo. [IV],47,[1 blank],[12]p. Contemp. calf, extremities worn, gilt back with red label, marbled endpapers, sprinkled edges. Name dated 1923 on first blank. (#32536)
€ 3500

A re-issue with a modified preface of the first part of La vie et l'esprit de Mr. Benoit de Spinosa, first printed by Charles Le Vier in 1719, which had circulated in manuscript since the beginning of the century.
This is the earliest biography of Spinoza, most likely commenced shortly after his death and finished at the latest in 1688 (Wolf). It is usually attributed to Lucas, but also to Dominique de Saint-Glain and to Jan Vroese[n]. Lucas was a French freethinker who fled to Holland where he published several periodicals and was fined repeatedly for offending Louis XIV. He was probably also the author of the famous atheistic tract Spirit of Spinoza.
Pages 45-47 are taken by a Catalogue des ouvrages de Mr. de Spinosa. The following pages are taken by a Recueil alphabetique des auteurs, et des ouvrages condamnés au feu, ou qui ont merité de l'être.
The first printed edition of 1719 is of utmost rarity. WoldCat does not locate any copy, though Wolf's copy was sold to the Univerity of California in 1950. Wolf wrote that only one other copy was known. The present edition is rare as well with WorldCat locating 3 copies worldwide (Newberry, BL and BnF), and NCC adding 3 copies in the Netherlands (UVA, UBL and KB).
*Van der Linde 104. Wolf 308. SB 11211. Not in Bamberger.

---
A vast program of reforms
[THOME, Louis Marie René, marquis de]
De l'ensemble, ou essai sur les grands principes de l'administration.
A Paris, chez Gattey 1788.
2 volumes. [IV],456; [IV],348p. Contemp. calf, gilt backs, sides with gilt double-line borders and small central coat of arms, marbled endpapers. (#31243)
€ 1750
First (only) edition. A very rare work on public administration which contains a vast program of reforms. It deals with all aspects of governmental science and public welfare. The author treats public morality and moral education, with particular attention for the education of women, and improvements to introduce in the legislation and the administration of justice. An important part of the work is dedicated to urgently needed reforms to be made in public finance. He discusses the injustice and detrimental effects of so many of the existing taxes and proposes the introduction of a single tax.
The second volume treats the 'physical' part of public administration, the promotion of commerce and trade, with chapters on improvements to be made in the army, statute labour, the road-system and river works, the police, the facilities for travellers, postal services, etc. The author also gives suggestions for the local administration on subjects like public health, clean water, loan-offices, fire-service, hospitals, town planning, cemeteries, etc. He ends his work with a discussion of the monarchy with a proposal for the installation of a supreme council.
We were unable to find any information about the author, other than that he has been suggested (together with G.J.B.Target and P.A.Torné) as the author of a somewhat similar work (
L'Esprit des Cahiers
, see INED 4277 for a long notice), published in 1789 and presented to the States General.
*INED 4317. Not in Kress, Goldsmiths' or Einaudi.
---
The best contemporary source for the tulip speculation
Tulipomania.

De drie t'zamenspraeken tusschen Waermondt en Gaergoedt, over de op- en ondergang van Flora; als mede Floraes zotte-bollen, troostbrief, en een register der tegenwoordige meest geächte hyacinten, met der zelver prysen. Deze tweden druck vermeerdert en van veele fauten gezuyvert. [
Bound with
:] Clare ontdeckingh der dwaes heydt, der ghener die haer tegenwoordigh laten noemen floristen ... Gedruckt na de oprechte copye 1636.
Haerlem, gedruckt by Johannes Marshoorn 1734.
2 volumes in 1. Small 8vo. [IV],219,[1]p. & 4 pages numbered *104 between p.104 and 105, 24p. With folding engraving. Nineteenth-century half calf, gilt back with red label. Some light spotting and staining. (#40568)
€ 2500

An eighteenth-century reissue of six pamphlets originally published in 1637 (and again in 1643) after the collapse of the speculative tulip bubble in the Netherlands. They were written with the object to warn against future speculation. They are 'the best contemporary source for the tulip speculation ... They do not only give the methods of how the business was done, but they also contain numerous details about the trade and the prices' (Krelage).
The first three pamphlets are written in the form of dialogues ('zamenspraeken') between Waermondt ('Truemouth') and Gaergoedt ('Amasswealth'). Gaergoedt is a weaver who has abandoned his business to become a speculator. He tells Waermondt that he can easily win a few thousand guilders a day by his trading. But Waermondt warns that he will finally loose everything and that it would have been better to remain a weaver.
The main work is continuously paginated but all pamphlets have also own title leaves, each with a woodcut showing the tulip 'Hertoch Eerich': (1) Eerste t'samen-spraeck, tusschen Waermondt ende Gaergoedt, nopende de opkomst ende ondergang van Flora, (2) Tweede t'samen-spraeck ... zijnde het vervolgh ... (3) Register van de prijsen der bloemen, zijnde de derde t'samen-spraeck ... (4) Floraes sotte-bollen: afgemaelt in dichten en sangen door verscheyde autheuren, (5) Troost-brief, aen alle bedroefde bloemmisten, die treuren over 't sterven of 't overlijden van Flora, goddinne der Floristen. The four additional pages contain an explanation of the engraving depicting 'Floraes gecks-kap'. This engraving is different from the (non folding) engraving found in other copies of this.


---
VOLTAIRE (1694-1778)
La Bible enfin expliquée par plusieurs aumoniers. De S.M.L.R.D.P.
Londres [Amsterdam, M.M. Rey] 1776.
2 volumes in 1. [IV],274,[IV],275-550,[1]p. Contemp. calf, back richly gilt with red label, red edges. Fine copy. (#41436)
€ 650
Published in the year of the first edition. One of Voltaire's last books in which he maliciously points out the contradictions and inconsistencies of the stories of the Old Testament, not free of anti-Semitic utterances. 'S.M.L.R.D.P.' stands for 'Sa Majeste le Roi de Pologne' or 'de Prusse'.
*Bengesco 1861, 3.
---
His only work of economic interest
VOLTAIRE
(1694-1778)
The man of forty crowns. Translated from the French of M. de Voltaire.
London, printed for T.Becket and P.A.D'Hondt 1768.
IV,104p. Finely bound in 3/4 calf, gilt ribbed back, red label, marbled sides (sd Bayntun, Bath). (#30679)
€ 1500

First English edition. Voltaire's only work of economic interest in which he attacks the principles of the physiocrats and particularly Le Mercier de la Rivière's L'Ordre naturel et essentiel des sociétés politiques published the previous year. It is the history of the owner of a small estate yielding a net income of forty crowns a year, who has been frightened by the appearance of several edicts promulgated 'by a few gentlemen who, having some leisure, have undertaken to govern the kingdom from their firesides'. 'The dogmatic and often pompous and heavy style of the physiocrats had probably bored him, as well as their abstract and subtle mode of reasoning.'
The book was almost immediately forbidden and almost all of the numerous editions published afterwards appeared without or with false imprint. There were three editions in English the same year, the others being published at Glasgow and Dublin. Originally published in French the same year (L'Homme aux quarante écus).
*Kress 6597. Goldsmiths' 10405. Palgrave III,p.632.