The 'Northeastern part of Siberia, the Ice-Sea, the Eastern-Ocean and the Northwestern coast of America'
SARYTSCHEW [SARYCHEV], Gawrila
(1763- 1831)
Reis in het Noordoostelijke Siberie, en op de IJszee en den Noordoostelijken oceaan. Uit de Hoogduitsche vertaling van Johann Heinrich Busse overgezet door N. Messchaert.
Amsterdam, Johannes Allart 1808.
2 volumes in 1. [II],XXXII,190; III-X,334p., wanting half-title to volume 2 as usual. With a large folding engraved map (78 x 47 cm) of the 'Northeastern part of Siberia, the Ice-Sea, the Eastern-Ocean and the Northwestern coast of America', 5 engraved plates coloured by hand, 10 folding engraved plates, and a folding table. Small tear (c.5 cm) in the map. Contemp. half calf, marbled boards, extremities and joints somewhat worn, edges dust-soiled.
€ 1500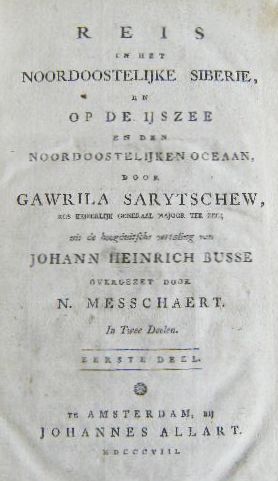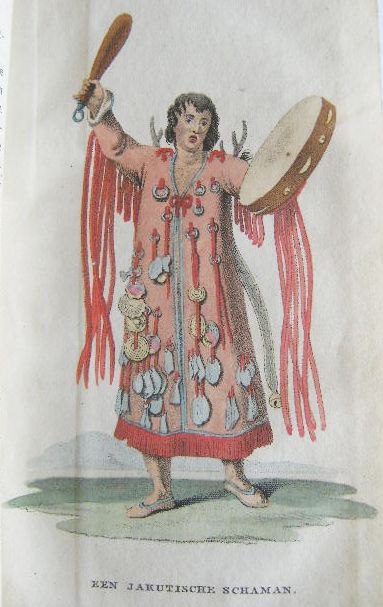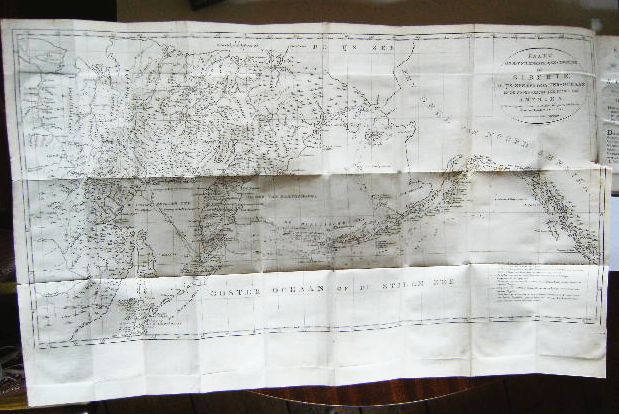 First (only) Dutch edition. An account of the Russian expedition in search for the Northeast Passage to Northeastern Siberia, the Polar Sea and the Northeastern Ocean during the years 1785-1794. The expedition was headed by Joseph Billings, an English navigator in the service of Catherine II, assisted by Sarychev. The expedition greatly contributed to the mapping of the Chukchi Peninsula, the West Coast of Alaska and the Aleutian Islands.
The original Russian edition appeared 1802. This Dutch edition was done after the German translation of 1805-06. An abridged English edition appeared 1806.